In reaction to the florid complexities of the Baroque, and influenced by the Age of Reason, the Classical era focused on simplicity and elegance, producing such composers as Haydn, Mozart and Beethoven.  The Classical era expanded upon the Baroque era, adding a major influential new song form:  The sonata.  This era also saw the development of the concerto, symphony, sonata, trio, and quartet.  Though this era didn't add any majorly new instrumentation, the harpsichord was officially replaced with the piano (aka fortepiano).
---
---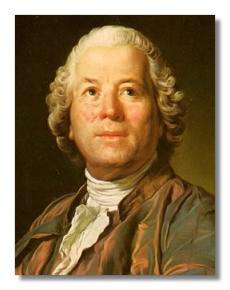 Christoph Willibald Ritter von Gluck (1714-1787)
Up until 1762 Gluck composed in the contemporary operatic style which was marked by music written primarily to give virtuoso singers opportunity to display their skill.
He began to develop a style intended to restore opera to its original purpose of expressing in music the meaning or emotion conveyed by the words.  The opera that resulted was Orfeo et Euridice, which included the Dance of the Blessed Spirits and Dance of the Furies.  This surpassed in grandeur, dignity, dramatic quality, and naturalness anything he had written before.
Gluck's reforms made a lasting mark on opera. The principles for which he stood influenced the work of many composers who followed him, including Mozart, Beethoven and Wagner.
---
---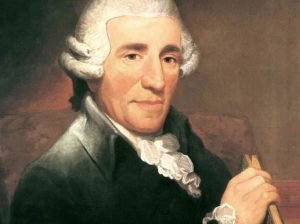 Franz Joseph Haydn (1732-1809)
The young Haydn's singing voice was so impressive that he was asked to join the Choir School of St Stephen's Cathedral in Vienna when he was just five years old.  It was suggested by the choirmaster at St Stephen's Cathedral that Haydn become a castrato to prevent his voice from breaking.  It was only when his horrified father discovered that his son was about to go under the surgeon's knife that Haydn was told what the operation actually involved. He chickened out.
Joseph Haydn is often referred to as "Papa Haydn" for his immense contribution to classical music. He is the most prominent figure in developing the classical composition technique that so many composers have followed.
Much like J. S. Bach, Haydn spent most of his life in a single position, as Kapellmeister for the Esterházy family, which gave him access to diverse musical forces, but also kept him musically and personally isolated. Some explain his apparent boundless inventiveness to this isolation.
Trio for Piano, Flute and Cello in F Major, Hob. XV, 17:  Allegro
String Quartet No. 30 in E-Flat Major, Opus 33, No. 2 ("The Joke")
The story goes that Haydn wrote the ending to win a bet that "the ladies will always begin talking" before the music stops. And so the finale can be strangely disorientating and confusing with a whole series of false endings, weird pauses and wrong places to clap. Clara Schumann wrote of how she laughed aloud after hearing a performance.  By the way, when this piece does finally end it seems to do so by no musical logic other than that it has stopped.
The Surprise Symphony is the best known of the over hundreds of symphonies by Haydn. Its second movement is the most popular and gave the symphony its name.  Legend has it that, as provider of after-dinner entertainment, Haydn got tired of people in the audience falling asleep in the middle of his concerts.  Two hundred years later, the Surprise symphony still makes audiences jump.
Haydn's long neglected cello concertos have become central to the concert repertoire whether played on period or modern instruments. Cello Concerto No 1 was discovered in Prague in 1961 and was quickly established as one of the composer's most popular orchestral works. Haydn redefined orchestral playing with this concerto which is a perfect vehicle for a player's technique with fast runs and meaty chords proving the cello is much more than just a bass line instrument.
Part of Haydn's experience in London involved several hearings of the British national anthem. He was so moved by the piece that he decided to play around with a patriotic tune for his homeland, Austria – and it became, for a time, the national anthem for both Austria and Germany.
Farewell Symphony No. 45, IV. Finale
When Haydn's Farewell symphony was performed for the first time in 1772, the composer gently hinted to his employer Prince Nikolaus that his overworked musicians might like to return home with an ingenious musical statement. The final movement sees each musician stand up, extinguish the candle on their music stand and leave the room in turn until only a pair of violins remain.
---
---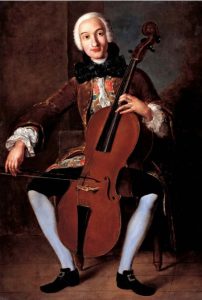 Luigi Boccherini (1743-1805)
Luigi Boccherini was an Italian composer and cellist who influenced the development of the string quartet as a musical genre and who composed the first music for a quintet for strings, as well as a quintet for strings and piano. His approximately 500 works also include sacred music, symphonies, and concerti.
Cello Concerto in B-flat No. 9, G. 842 – Allegro Moderato
Boccherini composed several cello concertos, at least 14 in all, which are notable for the high technical demands of the solo parts.
String Quintet in E Major, Op. 11, No. 5 – Minuet
The famous E major minuet brought Boccherini eternal fame. The memorable syncopated violin melody starts straight away and is accompanied by light pizzicato themes from the rest of the ensemble. The trio takes you somewhere new, however the sounds of that violin melody from the minuet never quite goes away. This movement has been used in films and TV shows and remains one of Boccherini's most famous pieces.
---
---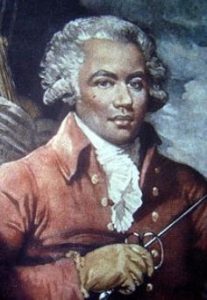 Joseph Bologne, Chevalier de Saint-Georges (1745-1799)
If any life were said to be colorful and improbable it would be Joseph Bologne.  He was variously the first successful black classical composer; the champion swordsman of all Europe; colonel of his own regiment, which fought in the French Revolution; virtuoso violin soloist; survivor of a slave revolt in the Caribbean; confidant and companion to Marie Antionette; conductor of famed orchestras; patron to Josef Haydn — and much more!
Forty-five years after his death, the astonishing and legendary details of Bologne's life inspired the swashbuckling fictional character Porthos in Alexandre Dumas' The Three Musketeers.
Violin Concerto Op. 7, No. 1 in A Major
Bologne composed and published several different varieties of chamber music, to fill a huge popular demand of those who wanted to experience his music in their homes. This is 100 years before even the most rudimentary recorded sound, and if you wanted to hear music, you either played it yourself, or hired others to do it for you!
Symphony Concertante in G Major — Allegro
This is an almost perfect textbook example of the "correct" model for the early symphony.  Haydn had been busy for some time (along with others) establishing the norms for instrumental music in the early classic period.  Profound this work is not, but it is a fine-crafted work by a composer of striking credentials.