Handel (23 February 1685 – 14 April 1759) was one of the greatest composers of the Baroque period.
Opera dominated Handel's career, yet for several centuries he was better known for his oratorios and instrumental works. He forged a personal idiom by taking Italian traditions and adding in elements of German counterpoint and dance forms from France. The result was a uniquely cosmopolitan style which Handel took to London.
Handel was a hit in London, as evidenced by the very generous salary he received from Queen Anne when he moved there in 1712. His successes in London continued, and he was eventually made the musical director of The Royal Academy of Music.
Some of Handel's biggest and best works were composed in the latter stages of his life. That might not sound too impressive, but then again he did suffer from a stroke in 1737, was involved in a coach crash in 1750 and had cataracts and eventually went blind after a botched eye operation 1751.
---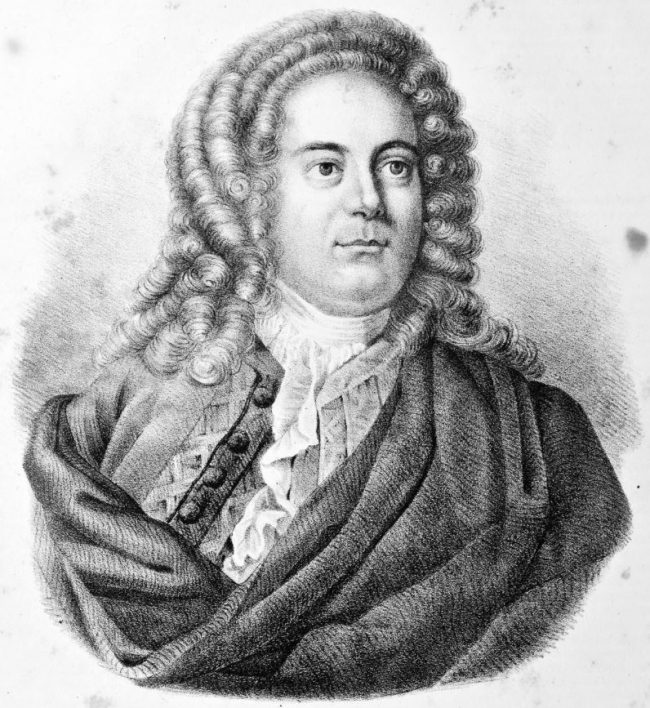 "The figure of Handel was large, and he was somewhat corpulent, and unwieldy in his motion; but his countenance, which I remember as perfectly as that of any man I saw but yesterday, was full of fire and dignity; and such as impressed ideas of superiority and genius. He was impetuous, rough, and peremptory in his manners and conversations, but totally devoid of ill-nature or malevolence." 
Charles Burney, An Account of the Musical Performances…in Commemoration of Handel (1785)
---
The Water Music (1717)
The Water Music, a collection of three orchestral suites, premiered on 17 July 1717 and was written in response to King George I's request for a concert on the River Thames. The King and several aristocrats watched from the royal barge as about 50 musicians performed Handel's music from another barge. The King was so pleased with Water Music that he ordered it to be repeated at least three times.
---
An English singer named Gordon complained of Handel's method of accompanying. If Handel persisted in accompanying him in this manner, he threatened to jump on Handel's harpsichord and smash it to pieces.

Handel is said to have replied, "Oh! Let me know when you will do that, and I will advertise it. For I am sure more people will come to see you jump, than to hear you sing."
---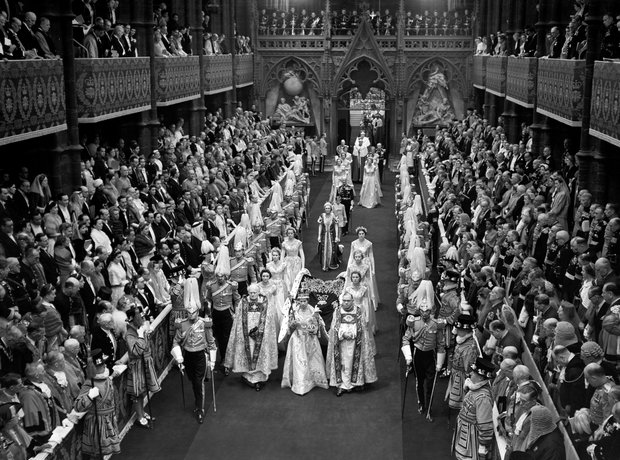 One of Handel's coronation anthems, this piece sets text from the biblical account of the anointing of Solomon.
The words have been used at every English, and later British, coronation since King Edgar was crowned at Bath Abbey in 973.
Zadok the priest, and Nathan the prophet anointed Solomon king and all the people rejoiced, and said: "God save the king! Long live the king! May the king live for ever. Amen. Allelujah.
---
Organ Concertos (1735-1736)
The six Organ Concertos for chamber organ and orchestra were composed by Handel between 1735 and 1736.
They were written as interludes in between performances of his oratorios and were the first works of their kind for this combination of instruments and served as a model for later composers.
Organ Concerto No.1 In G Minor, Op.4 No.1 HWV 289 – 4. Andante
---
Xerxes (1738)
Xerxes (Serse) is one of Handel's most popular operas and includes romantic intrigues and military maneuvers.
It features a popular opening aria, 'Ombra Mai Fu', later known as Handel's 'Largo', sung by Xerxes while admiring the shade of a plane tree (an Old World Sycamore).
---
Messiah (1741)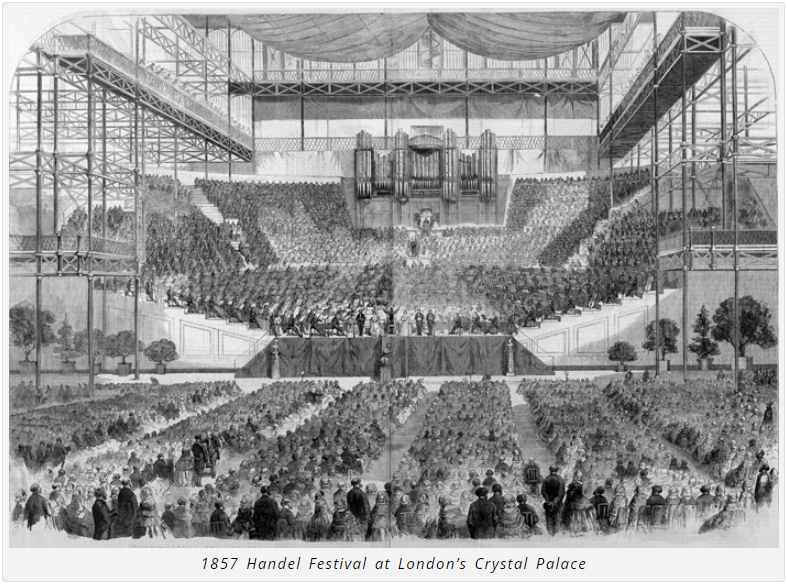 Handel composed Messiah, an English language oratorio, in 1741. After an initially modest public reception the oratorio gained in popularity and eventually became one of the best-known and most frequently performed choral pieces in Western music and is one of the best Handel works.
The 'Hallelujah' chorus is one of the most famous pieces of Baroque choral music and the most widely known section of the work. When composing the celebrated 'Hallelujah' chorus Handel said it was "as if I saw God on his throne, and all his angels around him".
There are fifty-plus separate numbers in Messiah. Almost all of them are gems, and it remains something of a miracle that the entire two-hour oratorio was composed, start to finish, in twenty-four days.
During the first London performance of Handel's Messiah, King George II stood up as soon as the Hallelujah chorus kicked in – after that, it became traditional for audiences to stand for this famous chorus.
And the Glory of the Lord
For Unto Us A Child is Born
Silent Monks Sing the Hallelujah Chorus
---
Music for the Royal Fireworks (1749)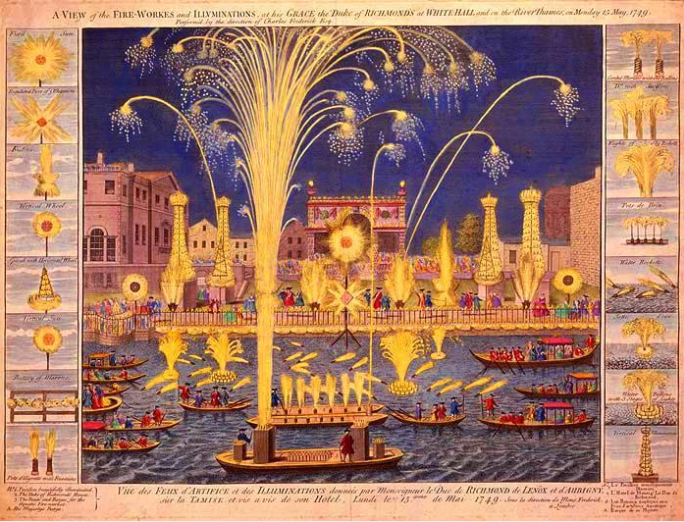 Music For The Royal Fireworks, one of the best Handel works, was composed for performance at an outdoor festival in London on April 27 1749 to accompany the royal celebrations celebrating the end of the War of the Austrian Succession. During the first performance it rained, most of the fireworks refused to light, and the few that did light caused the staging to catch fire.

La Paix – Largo alla siciliana
La Rejouissance
---
Handel is said to have detested hearing the tuning of instruments, and therefore, this was always done before he arrived at the theater.

A prankster, stole into the orchestra, one night when the Prince of Wales was to be present, and untuned all the instruments.

As soon as the Prince arrived, Handel gave the signal to begin, con spirito; but such was the horrible discord, that the enraged composer started up from his seat, and having overturned a double-bass which stood in his way, he seized a kettle-drum, which he threw with such violence at the leader of the orchestra, that he lost his full-bottomed wig in the effort.

Without waiting to replace it, he advanced bare-headed to the front of the orchestra, breathing vengeance, but was so choked with passion that he was unable to speak. He stood there staring and stamping amidst the audience's laughter.

The Prince went to him in person and with much difficulty appeased his wrath. Only then would Handel resume his seat at the instrument.
---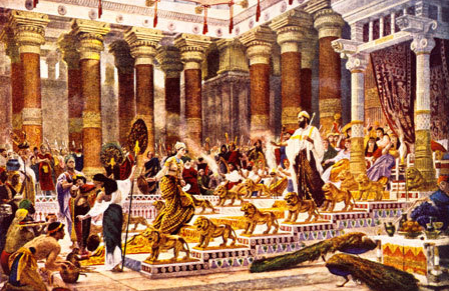 Arrival of the Queen of Sheba (from Solomon) (1749)
When the London public tired of Italian opera Handel re-invented himself with the English oratorio, including Solomon, which features the dazzling prelude 'Arrival Of The Queen Of Sheba'. Solomon is rarely performed in its entirety but 'Arrival Of The Queen Of Sheba' has become famous outside the context of the complete work and was featured during the 2012 London Olympics opening ceremony (as James Bond, Daniel Craig, went to meet the Queen at Buckingham Palace).
---