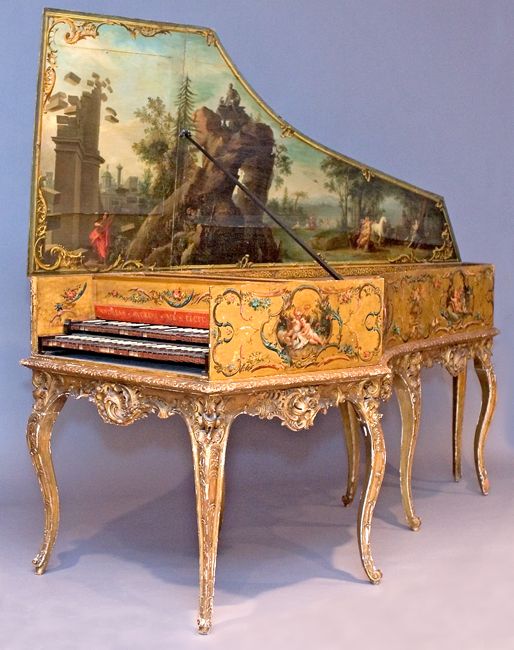 The harpsichord is a keyboard instrument and looks vaguely similar to the piano. In fact, it's a precursor to the piano. Its sound is light and tinkly, a bit metallic, and is well suited to baroque music, such as that of Bach. The harpsichord preceded the invention of the piano, and was at its height of its popularity between 1500 and 1790.

The harpsichord strings are plucked by a plectrum, rather than hit with a hammer. When you press keys on a piano, the strings are hit by soft hammers. It is the plucking of the harpsichord strings which produces its characteristically brittle, bright sound.

The harpsichord has declined greatly in popularity since the 18th century predominantly because the piano is a more varied instrument, having the fundamental advantage that loud and soft sounds are obtained merely by altering the touch. The piano also has the sustain pedal which allows the notes to ring out for a longer time (an impossibility on the harpsichord)

Good quality harpsichords are generally old, delicate, and hard to find. So why would anyone take up this instrument, or, for that matter, listen to harpsichord music? According to Erin Helyard, one of Australia's greatest ambassadors for the harpsichord, when asked how to sell the sound of the harpsichord. "I think we come to the harpsichord from the wrong direction. We compare it unfairly to the piano. It's a bit like coming from a colour film, then going back to black and white, which has amazing shade and quality, and the great directors, like great composers, write for that. So I would encourage everyone to try and forget the piano. All my students say, 'Oh the harpsichord doesn't have dynamics!' and I think that that's the wrong way of thinking about it, I think it's a bit unfair."

So what's the deal with the harpsichord. An acquired taste? Or is it a matter of attitude and outlook? Like old movies, using Erin's analogy, maybe there's a sheer delight in hearing something special, something vintage and rare.
---
---
William Byrd (1539/40 – 1623)
Ut re mi fa sol la in F Major (1539/40)
Byrd was the foremost musician of the Elizabethan era. Much of his innovative keyboard music was based on dances. The title of this fantasia refers to the first six notes of the major scale – a key theme of the piece, though two folk songs are also interwoven into the textures.
---
---
Dieterich Buxtehude (1637-1707)
Suite in G minor, BuxWV 242 – IV. Gigue
Bach famously walked two hundred miles from Arnstadt to Lübeck to hear Dietrich Buxtehude play the organ, and although it is his organ music for which Buxtehude is probably better known, his 18 keyboard suites show the more intimate, smaller-scale end of his compositional style.
---
---
Henry Purcell (1659-1695)
Round O, Z. 684, 'Abdelazer' (1695)
Originally written for strings as incidental music for Aphra Behn's play Abdelazer (or The Moor's Revenge), this sprightly country dance is perhaps most recognizable today as the theme used by Benjamin Britten in his Young Person's Guide to the Orchestra. 'Round O' is an anglicisation of the French 'rondeau'—a simple dance with a recurring refrain.
---
---
François Couperin 1668-1733) 
Pièces de clavecin, Book 1 – 1st Ordere in G minor-major – La Milordine (1713)
Much like the Bach family, the Couperin family was a renowned musical dynasty, but François was to be the greatest among them, and is accordingly often given the moniker 'le Grand'. Working for much of his life in the royal court, Couperin's harpsichord works are contained in four books, divided into a sequence (or 'ordre') of 27 suites. La Milordine is an energetic gigue with a title that suggests a dedication to an unknown foreign nobleman.
---
---
George Frideric Handel (1685-1759)
Keyboard Suite No. 5 in E major, HWV 430 – IV. Air and Variations ('The Harmonious Blacksmith') (1720)
This famous theme and variations featured in a set of eight keyboard suites published by Handel in 1720. The bright key of E major gives a particularly effervescent quality to the music, with its simple harmony and phrase structure giving the work an immediate and straight-forward appeal. The source of the piece's nickname is unknown, but probably attributable to a 19th century blacksmith turned music dealer in Bath.
---
---
Johann Sebastian Bach (1685-1750)
Prelude in C Sharp from The Well-Tempered Clavier
The Well-Tempered Clavier, Book 1, BWV 846-869 (1722) – Two collections of preludes and fugues in every major and minor key stand as one of the great milestones in the history of keyboard music.
Fugue No. 2 in C minor from The Well-Tempered Clavier
The C minor Fugue is a perfect example of this complex form of which Bach became the undisputed master. The Fugue subject (theme) is passed around the four voices in intricate counterpoint and in various keys.
Brandenburg Concerto No. 5 – (c. 1721)
We will cover the Brandenburg Concertos in more detail in the upcoming class on J.S. Bach.

In this concerto, Bach spotlights the harpsichord, making it a soloist for the first time. This concerto makes use of a popular chamber music ensemble of the time (flute, violin, and harpsichord). It is believed that it was written to show off a new harpsichord which Bach had brought back from Berlin for the Köthen court.

This concerto is well suited throughout to showing off the qualities of a fine harpsichord and the virtuosity of its player, but especially in the brilliant solo in the first movement. It seems almost certain that Bach, considered a great organ and harpsichord virtuoso, was the harpsichord soloist at the premiere. Scholars have seen in this work the origins of the solo keyboard concerto as it is the first example of a concerto with a solo keyboard part.
---
---
William Friedemann Bach (1710-1784)
Fantasia in D minor, Fk. 19 – (after 1770)
Wilhelm Friedemann was J.S. Bach's eldest son, born in 1710. Admired as a virtuoso harpsichordist and organist, his style is a fascinating blend of the traditions he had learned from his father and his own innovation.
---
---
Wolfgang Amadeus Mozart (1756-1791)
Sonata in C. K. 6 – for Harpsicord and Violin: 1. Allegro (c. 1762-1764)
Wolfgang Amadeus Mozart's first sonata for keyboard and violin, K. 6 is among his earliest works. It encompass several firsts for Mozart as a composer: for example, his first work incorporating the violin, his first work with more than a single instrument, his first work in more than one movement and his first work in sonata form. Mozart would have been between 6 and 8 years of age when he composed this work; hence it is believed by many that it was written down for the boy by his father, Leopold. All four of these early sonatas are preserved in Leopold's handwriting.
---
---
Francis Poulenc (1899-1963)
Concert Champetre, FP 49: 1. Allegro molto (1927-29) – Recording of a performance by Wanda Landowska
Wanda Landowska (1879-1959) was a Polish harpsichordist whose performances, teaching, recordings and writings played a large role in reviving the popularity of that instrument in the early 20th century. She was the first person to record J.S. Bach's Goldberg Variations on the harpsichord (1931).

She was born in Warsaw, where her father was a lawyer, and her mother a linguist who translated Mark Twain into Polish. She began playing piano at the age of four, and studied at the Warsaw Conservatory. Deeply interested in musicology, she toured the museums of Europe looking at original keyboard instruments; she acquired old instruments and had new ones made at her request. These were large, heavily-built harpsichords with much to piano construction. They have largely fallen out of fashion in the past four decades.

A number of important new works were written for her: Manuel de Falla's "El retablo de maese Pedro" marked the return of the harpsichord to the modern orchestra. Falla later wrote a harpsichord concerto for her, and Francis Poulenc composed his "Concert Champêtre" for her.
---
---
György Ligeti (1923-2006)
"A harpsichord has an easy touch," wrote Ligeti. "It can be played very fast, almost fast enough to reach the level of continuum, but not quite . . . As the string is plucked by the plectrum, apart from the tone, you also hear quite a loud noise." And Continuum explores, with mesmerizing allure, what happens when you play very fast — whole new dimensions of sound are created and the piece shimmers with light.
---
---
The 1960s saw a resurgence of the harpsichord as it came into common usage in many of the popular songs of the day.
Different Drum (1967) – Written by Mike Nesmith of The Monkees and performed by the Stone Poneys with a young Linda Ronstadt.
---
Since that time the harpsichord has become a continued feature in both TV and movie soundtracks.