Equipment, Setup, and Technical Information
---
A Laptop Computer with a Built-in Webcam
Brand and operating system do not matter (Mac, PC, Android, iOS, Windows) as long as your OS is up to date. You'll need to place your device next to you during the lesson. Click below to learn more about setting up and positioning your device for online lessons.

NOTES:
While smartphones and tablets can also work okay, I do not recommend them as your primary device unless you have no other option.
An Ethernet cable will provide a better quality and more reliable connection.
A Stable, High-speed Internet Connection
If you are normally able to stream movies in HD from services like Disney+ and Netflix, then you should be fine.
---
Zoom Setup Instructions
You'll need to install Zoom on your device, then follow these instructions to connect to your lesson.
---
Device Setup Instructions and Details
Laptops & Larger Tablets
Place your device on a surface such as a high chair, table, music stand, or tripod to the left or right side of the keyboard at an angle. Position the device so that the webcam is about eye level with the height of a sitting adult. Picture how a teacher would normally sit next to a student during the lesson. The camera should be able to see an "over the shoulder" view of BOTH the keyboard and the student. Test different views ahead of time to achieve desired angle and lighting.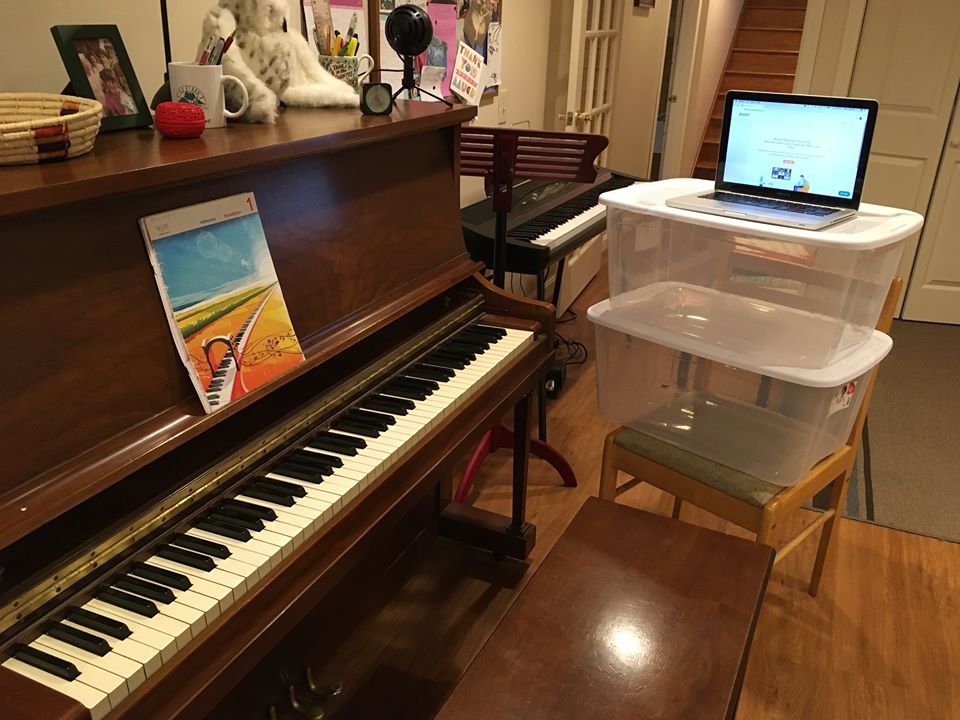 ---
My thanks to Ian Belloso, another Simply Music teacher, who has generously allowed us to use this video for illustrating online lesson setup..
---
Other Setup Considerations
Lighting
Background lighting must be adequate for clear viewing. It may be necessary to close blinds and diffuse the lighting to reduce glare. One way this can be accomplished is by pointing a lamp towards a wall or the ceiling rather than directly at the keyboard. Avoid having the camera point directly toward any light source (lamp or window).
Sound
To keep background noise at a minimum, a student should try to make sure other family members, pets, etc., are kept OUT of the room you are using for the duration of the online lesson. If you are having trouble hearing the lesson on your device's speakers (or if I am having trouble hearing you), it might help to use a pair of earbuds or headphones with a built-in microphone.